Anyone who has ever moved away from their home country will be able to relate to this.
Yesterday I was talking to my girlfriend on FaceTime and as usual we were generally chatting about what we've been up to and what we have planned for the rest of our days. During our conversation she mentioned that one of our favourite programs, Silent Witness, has started again and she was planning to watch it. Anyone who has known we over the last few years will know I do not watch a lot of TV, in fact I have lived without a TV for 4 years (minus the first two months I lived in Canada). Silent Witness, however, is one of those programs that I love, and is enough to get me hunting down a way to watch it.
Now there are several options available to people like me who want to watch their favourite programs or shows online but are away from home. Being away from home or not living in the country your favourite program is aired in can mean you can never access it through catch up TV options as they require you to connect via a home country server. The two main options available are to download torrents which are illegal, especially so in Canada, or to use something called a VPN.
For those that don't know what a VPN is, it stands for a Virtual Private Network, which essentially allows you to change which servers you connect to to roam the internet. For instance living in Canada I normally connect to Canadian servers but when I want to watch Silent Witness or World's Strongest Man, which shows every Christmas in the UK, then I connect to the UK servers.
You might be asking yourself if this is legal? In short, yes it is unless your intent is to use it for illegal activities. It is not illegal to change your IP (Internet Protocol) address provided you are doing it for legal reasons like watching programs legally rather than downloading them, or changing your location to access films on Netflix. Actually a lot of big companies use VPN's to access information (financial reports, data about competitors etc) not available in their country.
Options for VPN's
As with many things online you usually have 2 options, pay or not to pay. Personally, I use a VPN called Tunnel Bear that my brother uses and gave me a free pass to.
He came across Tunnel Bear after a friend mentioned it to him.
Tunnel Bear allows you to change your IP to up to 13 different countries including the USA, Canada, UK, India, Germany, Australia, Japan and a number of other European countries.
Reviews on their website by The Wall Street Journal, Macworld, and Yahoo!News all give glowing reports about how easy it is to use. Having used it myself for a couple of months I can safely say it is ridiculously simple.
There are three options to signing up to Tunnel Bear. 1, use the free bear that allows 500MB every month, 2, pay $6.99 per month and get access for up to 5 computers or mobile devices, 3, pay a yearly subscription of $49.99 (equivalent to $4.99 per month) and get access for up to 5 computers or mobile devices.
Additional advantages of using VPN's
There are a number of other reasons to use VPN's aside from accessing online content in other countries. These benefits include:
Additional security – because your browsing history is hidden from the server it means it is harder for people to track what you are doing. As I live in a shared house where the internet router is shared this means I can connect to the main router safe in the knowledge other people can't see what I am browsing (not that I have anything to hide but it's useful especially when buying things online or doing online banking).
Privacy – similar to the point above VPN's allow you to browse with complete anonymity.
Allows access to different servers allowing people to dial into their work servers from other locations giving businesses greater flexibility.
Better performance – there are some claims that it can improve bandwidth and efficiency of a network once implemented.
Conclusion
Overall I find using my VPN Tunnel Bear really easy to use. There's no complicated signing in, you just download it to your computer and turn it on when you want to use it and turn it off when you don't. You can try it now for free.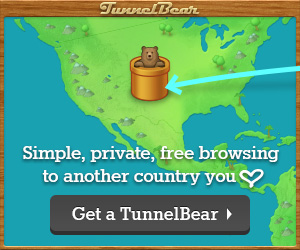 Ways to follow and contact me
My Great Canadian Move Website